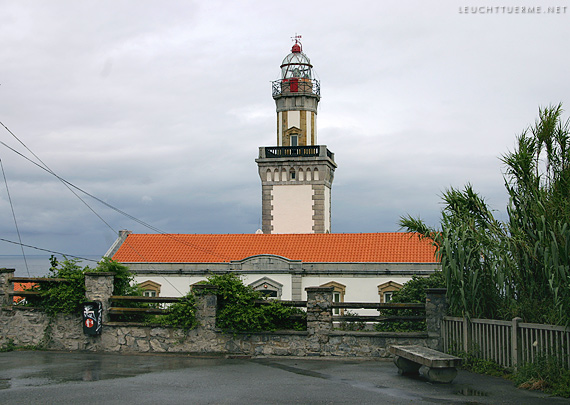 | | |
| --- | --- |
| 43° 24' N | 001° 47' W | D 1452 |
Cabo Higuer is the most eastern lighthouse along the Atlantic coastline of Spain. The lighthouse is situated on a cape at the entrance to the Bay of Txingudi (spanish) or Chingoudy (french). The bay itself is dominated by the spanish-french border.
The first light station dates back to 1855, the current lighthouse replaced the old one in 1881. It is an interesting detail that this type of tower seems to remain on French lighthouses more than on Spanish. The tower itself is made of stone. The base is square, the upper stage is cylindrical. The lantern is painted red, which is unusual for spanish lighthouses, that are mostly painted gray or silver.
The lighthouse and the neighboring camping grounds are connected to the city with a 3 km long road. We had really bad weather when we visited the site and used a short break between the rain clouds for our pictures.