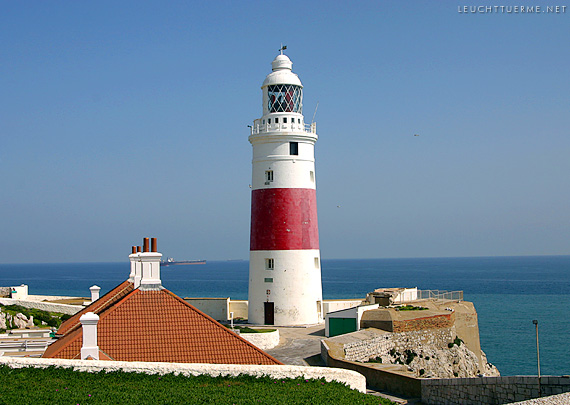 | | |
| --- | --- |
| 36° 07' N | 005° 21' W | D 2438 |
Lighthouse Europa Point is a really famous one, situated at a breathtaking site on the southernmost tip of the Gibraltar peninsula. In the distance you can see the silhouette of the Atlas mountains on the African continent, with the Strait of Gibraltar to the South, the narrow passage between the the Atlantic Ocean and the Mediterranean Sea.
Historical circumstances led to the treaty of Utrecht in 1713 which gave Gibraltar into British hands. Nothing has changed to that matter until now, although Spain claims to get the peninsula under spanish government.
Trinity House was ordered to build a lighthouse back in 1838, which was taken into service in 1841. Governor Sir Alexander Woodford designed the tower with typical british elements. In 1864, a new lense was installed and a red warning sector introduced. In 1894, the light was enhanced again and the charakter changed into an occulting light. A fog horn was added.
One again, the light got enhanced in 1905 and 1923. Major changes were done between 1954 and 1956, in which the light source became electric. The red sector was intensified by a new fixed light that came out of window under the lantern. The lighthouse became fully automated in February 1994 and its loom can be seen over a distance of 27 km.
It is the southernmost lighthouse for which Trinity House is responsible, and the only one outside the United Kingdom.