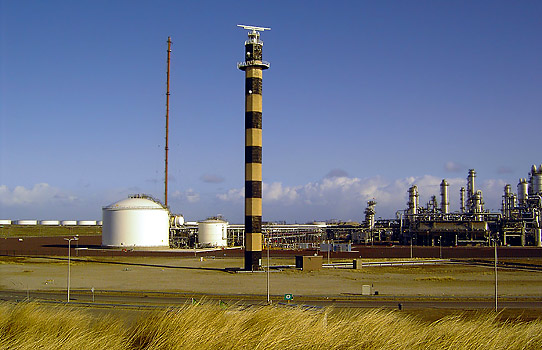 | | |
| --- | --- |
| 51° 58' N | 004° 01' E | B 0633 |
Europoort is a giantic industrial complex located at the mouht of the river Maas, in the West of Rotterdam. The area was built in the 1960s when dikes divided the shoals from the open sea. In order to reorganize the aids to navigation, this modern lighthouse with a height of 62 m was erected just behind the dunes on the west side of the Europoort area. The tower was built of concrete elements with a yellow and black painting, which is really kind of unusual. The lighthouse became the tallest in the Netherlands and the second-tallest lighthouse in the world. He serves as a landfall light for the entrance to the Nieuwe Waterweg (»New Waterway«, the name of a new canal). In its very simple design by W. Colenbrander, the lighthouse matches with the other lights built in this area. The lenses were taken from the old Range Light of Hoek van Holland.
The light was shown for the first time on September 18th, 1974.