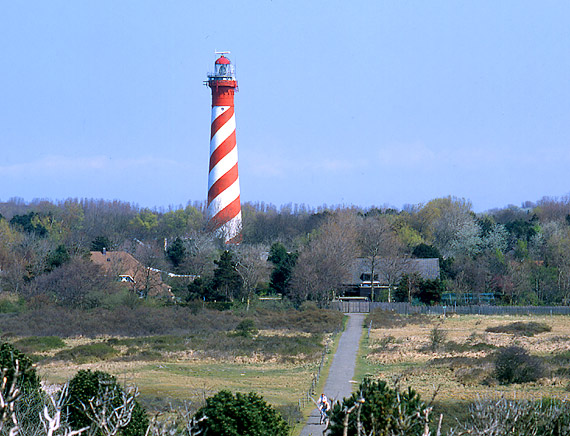 | | |
| --- | --- |
| 51° 42' N | 003° 41' E | B 0500 |
In the 1830s, L. Valk designed a classic-shaped lighthouse with gothic style for Schouwen, which was an isolated island at that time. Although coal fires have been maintained along this coast since the 14th century, four ships stranded on the shore in 1831 and 1832. A new lighthouse was needed, and after several years of planning the first brick was layed in 1837. Two and a half years later the work was done and a lantern installed on the tower.
The light was lit on March 25, 1840. In the following years, West Schouwen was the brightest lighthouse along the Dutch coast and became very popular. First, the tower was painted white. In 1935 the unusual red spiral band was added. Nine years later, during World War II, plane fire destroyed the lantern and damaged the lenses. It took nine more years to repair the damage, before the light was relit in 1953.
In 1979, the lantern was taken off the lighthouse – West Schouwen was integrated into a radar beacon line so that an antenna had to be installed. For that, a new lantern was build. The old one got a new function as a harbour office in Burghsluis at the eastern end of Schouwen.